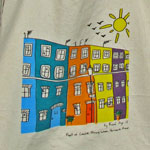 Shopping on the street market isn't like being at a mall – which we think is a good thing. Here are a few tips for first-time visitors.
Most street traders don't take cards, so bring some cash. There aren't lots of cashpoints, and they get busy. (See our map for where they are.) And of course, remember to keep your wallet safe.
Carry a practical bag with a shoulder strap, so you've got your hands free to shop. Bring a shopping bag too, especially if you're buying second-hand, as not all street traders can provide them. (You can buy a gorgeous Notting Hill Shopping Bag if you forget though!)
Come early. It's true the early bird gets the worm, and the early hunter gets the best bargains. The market usually sets up at around 9am, and on Saturday the antique dealers open around 7am, so why not come for breakfast?
On Saturdays Notting Hill Gate tube station gets very busy, so think about coming another way to avoid the crowds.  See here for more details.
If you're shopping for clothes on the street market it can be hard to try them on. Bring a tape measure and you can get an idea if something will fit without having to strip. Even better, bring a friend to hold your things, give an honest opinion and go for a post-shopping coffee with.
You're outside, so sensible shoes and sun block are, well, sensible. And this is England, so maybe an umbrella too!