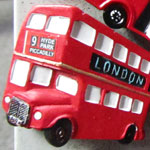 There are lots of ways to get to the market listed below and marked on our map here.
Most guides say use Notting Hill Gate tube, but it can be very busy on Saturdays, so you might want avoid the crowds by coming another way.
Underground
Ladbroke Grove on the Hammersmith and City and now Circle line is about 4 minutes from the heart of Portobello Road and Westbourne Park, on the same lines, is about 8 minutes walk away.
Notting Hill Gate station on the Central, District and Circle lines is about 10 minutes walk from the southern end of the street market.
Bus
Here's the Transport for London bus spider map for the area.
Buses 52 and 452 stop in Ladbroke Grove, Kensington Park Road and Pembridge Road.
Bus 295 stops in Ladbroke Grove just north of Ladbroke Grove tube station.
Bus 23 stops in Ladbroke Grove, and Elgin Crescent going towards Paddington, and in Westbourne Grove, Kensington Park Road and Ladbroke Grove going towards Ladbroke Grove Sainsburys.
Buses 7 and 70 stop in Ladbroke Grove and Westbourne Park Road.
Buses 27, 28, 328 stop close to Notting Hill gate station in Pembridge Road.
Bus 228 stops in Ladbroke Grove.
Bicycle
There are Barclay's cycle hire docking stations in Chepstow Villas near the junction with Portobello Road, at the 'turquoise island' in Westbourne Grove, and slightly further away in Notting Hill Gate and Ladbroke Grove.
If you've got your own bike there are stands in Ladbroke Grove near the Tube station, at the junction of Portobello and Golborne Roads and in Talbot Road.
Car
Driving to the market isn't recommended, as there's not much parking available. However, there are a few pay and display spaces on the side roads off Portobello Road and Ladbroke Grove. These spaces are free of charge after 1pm on Saturday and all day Sunday.
NB: On Saturdays Portobello Road is closed to traffic between Westbourne Grove and Cambridge Gardens.
This area is not in the congestion charge zone any more.
Disabled Parking
Details of Blue Badge parking in the Royal Borough of Kensington and Chelsea are here.
Of the dedicated Blue Badge parking bays, the nearest to the centre of the street market (food and new goods) are:
– Lancaster Road near Portobello Road junction
– Westbourne Park Road at side of 216 Portobello Road
There's also a space in Oxford Gardens near the junction with Portobello Road, which is in the vintage/flea market area of the market (north Portobello Road).
For the southern end of Portobello Road (Notting Hill Gate end with antiques and antique arcades) there is a bay near Notting Hill Gate in Pembridge Villas.