From the purely decorative to the extremely practical, you'll find a huge range of new homeware and gifts from all over the world in Portobello Road and Golborne Road, on market stalls and in independent shops.
There's also fantastic vintage furniture and homeware in a cluster of quirky, unique interiors stores in and around Golborne Road. See more about them on our vintage page.

On the corner of Talbot Road are fresh cut flowers on Fridays and Saturdays, plus house plants and bedding plants on Saturdays in spring and summer, and Christmas trees in December.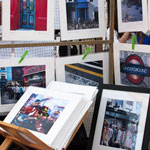 Award winning photographer Stephen Ullathorne sells art-quality prints of his original images of London and Portobello Road on Saturdays on the corner of Tavistock Square.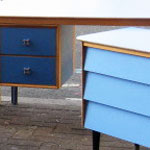 Often on Golborne Road on Saturdays, Hough Furniture also turns old into new, bringing new life to vintage furniture with careful restoration and sometimes adding a contemporary twist to create true one-off pieces.
Hough Furniture tweets here (as 23 Chairs) to confirm when they'll be out on the market.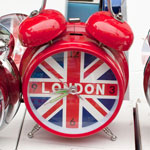 If you want something with a London or British theme, you'll find Union Jacks, royalty, Big Ben and red buses galore on souvenir stalls near and under the Westway on Friday and Saturday, and in the centre of the market early in the week.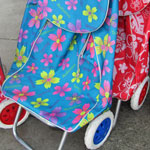 Monday through Saturday you'll find a a great choice of luggage, from huge suitcases and bright shopping trolleys down to holdalls and handbags.
Every day except Thursdays and Sundays, in the centre of the market you'll find a stall of household essentials like bulbs, batteries, sponges, scourers, brushes and brooms.
On Saturdays just south of the Westway Andrew's stall is piled with rolls of bargain furnishing, tablecloth and dress fabrics.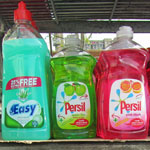 In Golborne Road you'll find more household essentials with a regular stall of household products and cleaning supplies.
Ceramica Blue at 10 Blenheim Crescent has eclectic, colourful and practical ceramics, glass and tableware sourced from all over the world, plus beautiful wooden cheese boards, candles and vibrant linens.
Graham and Green has beautiful furniture, home accessories and gifts at 4 Elgin Crescent.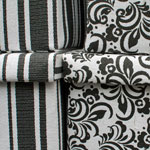 Between Westbourne Park Road and Lancaster Road, Sitara has a row of four shops with soft furnishings, furniture, lighting, home decor, storage, kitchenware and hardware.
Danaqa in Portobello Green Arcade under the Westway (formerly in Westbourne Park Rd) has ethically sourced, fairtrade home accessories, which don't compromise on quality or style.
At Garcia at 248 Portobello Road you'll find traditional Spanish ceramics, olivewood boards and bowls, paella dishes and kitchenware alongside their foodstuffs.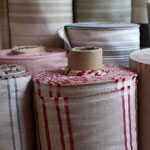 At 290 Portobello Road, The Cloth Shop has beautiful natural furnishing fabrics plus Scottish and Welsh blankets, vintage linens, ethnic textiles, ceramics and decorative objects.
Warris Vianni at 85 Golborne Road has vibrant, top quality furnishing silks and cottons.
The Floral Studio at the northern end of Portobello Road (number 337) is an Interflora florist with fresh flowers and plants every day except Sunday.
Across the road, Gallery 316 at 316 Portobello Road sells art prints, and provides a picture-framing service.
Portfolio at 105 Golborne Road has gifts, ceramics, stationery and greeting cards.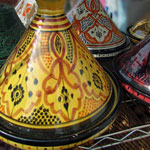 You'll find Moroccan ceramics and kitchenware at several shops in Golborne Road.
Fez at number 71 is a treasure trove of Moroccan homeware with leather slippers, carpets, ceramics, glassware, leather goods, pouffes, tagines, lanterns and fabrics.
Just south of Golborne Road, the Portobello Pet Shop has been open since 1917, with all kinds of specialist pet supplies, food and accessories.