At the market you can buy a piece of art or artisan craft, or if you're creative yourself, source art supplies and craft materials to make your own.
On Saturdays the market square off Portobello Road (just south of the Westway) is a small dedicated space for artists and makers with up to a dozen stalls, usually including jewellery, textiles and art.
On Fridays Ingrid from Petitacosa sells her hand crocheted and felted toys, puppets, amigurumi and homewares. You'll often find her busy crocheting at her stall.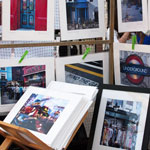 Award winning photographer Stephen Ullathorne sells art-quality prints of his original images of London and Portobello Road.
There's a wealth of materials and inspiration for artists and crafters with art suppliers, fabric and haberdashery shops and stalls.
For fine and graphic art supplies, Portobello Art and Stationers at 286 Portobello Road, has a full colour range in oil and acrylic paints, all sizes of stretched canvases, specialist spray paints, dyes, and much more.
Lyndons Art and Graphics at 216 Kensington Park Road has fine art and graphics supplies, printing consumables and a printing service.
Gallery 316 at 316 Portobello Road offer framing and book-binding services.
For crafters who love to sew, on Fridays around the Westway and at Portobello Green market, many stalls have original vintage textiles and haberdashery alongside vintage clothing.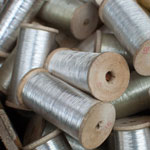 Wayward outside 286 Portobello Road (between Cambridge and Oxford Gardens) on Fridays is a vintage haberdashery specialist, with a dazzling array of vintage buttons, threads, trimmings and fabrics.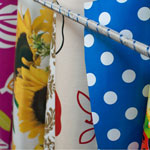 On Saturdays just south of the Westway, Andrew's fabric stall, is piled high with rolls of furnishing fabric and dressmaking material, all at bargain prices.
On Saturdays just north of the Westway flyover is a stall selling leather skins and pieces in a rainbow of colours.
At 290 Portobello Road, The Cloth Shop, known for its beautiful window displays, is full of furnishing and dress fabrics in natural fibres, plus vintage haberdashery, linens, blankets and home accessories.
Sadly the Temptation Alley shop has closed, but they still have a stall on Fridays and Saturdays at the corner of Lancaster Road with gorgeous ribbons, trims, braids, tassels and feathers alongside dressmaking essentials like thread and zips.
Lyndons Bead and Stitch at 197 Portobello Road has haberdashery, knitting yarns, embroidery thread, beads and jewellery findings, and opens seven days a week.