Since dealers began moving into Portobello Road in the late 1940s, Portobello market has been famous for its antiques. It's still the place to come whether you're a serious collector or just browsing.
On a Saturday, with all the stalls, arcades and shops open, literally hundreds of antique traders have their wares on sale. (There are a few antique street stalls here on Fridays, but most antique dealers sell only on Saturdays.)
Both on the street market and in the arcades you'll discover true experts with real passion for their specialities.  Are tinplate toys, trade beads or Japanese prints your thing?  You'll find them here, plus silverware, ceramics, fine art, jewellery and textiles.

There are far too many to mention, but here's a selection to whet your appetite.
Street market
On Saturdays antiques stalls cluster together in Portobello Road south of Westbourne Grove and along Westbourne Grove itself between Kensington Park Road and Portobello Road.  Some of the regular Saturday stalls are:
Swift Antique Lace has swathes of beautiful antique lace and textiles, primarily from the 17th to 19th century.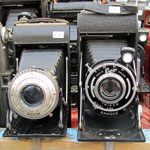 Allen Antiques focuses on cameras from Victorian times through to the 1950s, plus tea-ware and dinnerware.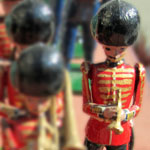 Andy Morant Toys brings back childhood memories with antique toys and dolls; toy soldiers being their particular speciality. They also trade on Fridays from April to December
Priscilla Shrieves has collections of cigarette cards mounted ready to frame. If you've got postcards or cigarette cards to be framed together, she offers a bespoke mount-cutting service.
Moya Smith is an expert in silver plate cutlery (flatware) and brass army buttons, who's been trading at Portobello market since the mid 1960s.
Kusak Antiques has a vast array of cufflinks and collar studs plus collectable antiques, china and cutlery and a special interest in needlework tools.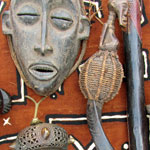 For African tribal art see Oscar's Antiques near the end of Lonsdale Road, Owen Hargreaves a few stalls up, who also has antique African jewellery, or Tribal Art, Fridays and Saturdays in Golborne Road.
Opposite Hummingbird Bakery on Saturdays and occasional Fridays, Interamnia has hundreds of antique prints and maps.
For retro-style glamour Kashden Antiques has immaculate vintage handbags, hats and coats.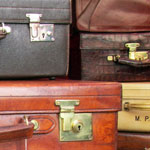 Harking back to the golden age of travel, Fine and Vintage have fine vintage leather luggage from briefcases to trunks, hip flasks and gentlemen's accessories.
If you aspire to 1950s and 60s silver-screen style see Hilary Proctor for a huge range of top-quality vintage handbags, accessories, coats and menswear.  She has Saturday stall at the end of Lonsdale Road and in the Admiral Vernon arcade and a shop at 135 Portobello Road open Friday to Sunday.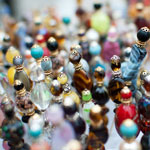 The Larkins have vintage jewellery and hatpins and earrings crafted from recycled vintage beads.
Portobello Books has antiquarian books and general antiques, while a couple of stalls along Portobello Prints has antique prints and pictures.
Frances and Nicola's jewellery stall is strung with sparkling vintage glass and china necklaces. If you've got beads in need of TLC they can restring and re-knot them for you.
Militaria specialist Geoffrey Walsh has medals, badges and other items from World War I and World War II.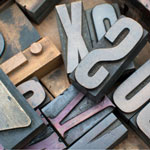 On Fridays in Portobello Road, and on Saturdays in Westbourne Grove, The Old Printing Shop sells wooden letter blocks and printers' type cases.
In Westbourne Grove on Saturdays Peter Causton has mainly Asian and oriental porcelain, figurines and decorative pieces.
Also in Westbourne Grove, Juan Carlos specialises in antique frames from Georgian to mid 20th century.
Nearby, Franz Antiques has European and oriental works of art including paintings, sculpture and glass.
Antiques arcades
There are around a dozen antiques arcades in Portobello Road and Westbourne Grove between Chepstow Villas and Elgin Crescent. They're like Doctor Who's Tardis – much bigger on the inside than they look on the outside – each one crowded with individual dealer booths, and only open on Saturdays.
Just in Roger's Arcade at 65 Portobello Road, there are more than 50 dealers, including:
Vic Burness who deals in scientific instruments, especially marine, meteorological and medical instruments, plus related items.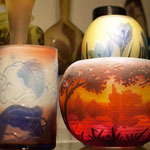 Roger Harris, an authority on art glass, particularly art nouveau and art deco, and specialist in pieces by Daum, Gallé, Lalique and Tiffany.
There are literally hundreds of kiosks, so to find dealers in the arcades with a particular speciality, try the Portobello Antique Dealers Association site here.