Whether you're a foodie, a health fiend or just plain hungry, you'll find something to tempt your taste-buds in Portobello Road and Golborne Road. They're among London's best food destinations with fresh produce, essential and exotic ingredients, and delicious hot food.

Many of the street stalls are family businesses with third or fourth generation traders who've been here their whole lives.  They really know their onions (and apples and meat and fish).
Fruit and Vegetables
On Portobello Road and Golborne Road there's a huge choice of fresh fruit, vegetables and herbs from Monday to Saturday, though Thursday is mornings only.
Prices are almost always cheaper than supermarkets, plus you'll find unusual and seasonal varieties rare elsewhere, like samphire, 'donut' peaches and cavallo nero.
Specialist Food Stalls
Alongside the produce, there are many specialist food stalls, especially on Fridays and Saturdays when baked goods, oils, olives, gourmet cheeses, meat, seafood and much more are on display.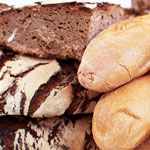 Near the corner of Talbot Road, The Bread Stall has bread, cakes and pastries through the week, but on Fridays and Saturdays have their biggest selection, with more than 20 different kinds of bread.
Fridays and Saturdays there's at least one stall of discounted food including cheese, confectionery, biscuits and pantry foods.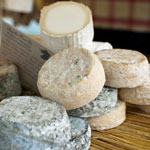 On Fridays and Saturdays Une Normande a Londres is outside the Electric Cinema, with French cheese, sausage and terrine.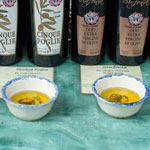 Next along, also on Fridays and Saturdays, Vito has the finest olive oils and balsamic vinegars.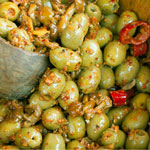 You'll find olives, feta and Mediterranean hot food at The Olive Bar near the corner of Talbot Road.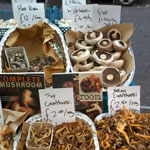 From Monday to Friday, The Mushroom Man has a wide selection of the very finest funghi.
Fridays and Saturdays between Lancaster Road and Westbourne Park Road, Piper's Fresh Fish has fish and seafood including clean gutted squid, hake and red mullet.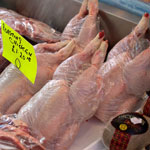 On the same days, a couple of stalls down, Meat Line has game including rabbit and guinea fowl, plus specialities such as French cornfed chicken and traditional Scottish haggis.
Specialist food shops
Surrounding the market are shops and delicatessens where you'll find fresh food, wine and store-cupboard ingredients.
Golborne Road has a Portuguese deli (Lisboa Delicatessen at number 54) and cafes; a Moroccan patisserie, cafes and food stores and a proper old-style fishmonger.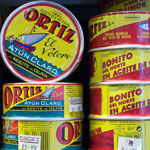 For authentic Spanish delicacies head to Garcia at 248 Portobello Road and La Plaza at number 288.
Under the Westway, Portobello Wholefoods sells organic and health foods and, if you bake, one of the few places in London to buy fresh yeast.
In Blenheim Crescent The Spice Shop is packed to the rafters with flavours, including their own spice mixes.
If you need inspiration cross over to browse in Books for Cooks (there's even a cafe in the back of the shop).
Delicatessen Mr Christians has been in Elgin Crescent since 1974, providing the finest fresh and storecupboard fare.
Over the road The Grocer on Elgin has magnificent baked goods and the poshest of ready-meals.
At 180 Portobello Road, Coffee Plant roasts and blends organic and Fairtrade coffee, with 25 blends of beans to choose from.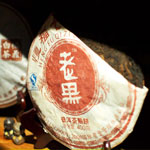 If you're a tea connoisseur don't miss the The Chinese Tea Company, a tiny jewel of a shop tucked away in the arcade under the Westway, with loose and brick teas, and delicate tea-ware to drink them from.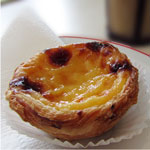 For sweet treats take home  melt-in-mouth pastéis de nata (baked custard tarts) from Lisboa or Oporto in Golborne Road or cupcakes from the original branch of Hummingbird Bakery at 133 Portobello Road.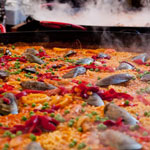 If it's all making you hungry, you can eat straight away. There's a falafel stall every day except Sunday, and on Fridays and Saturdays street vendors in Portobello Road serve freshly-cooked dishes from all over the world including churros, bratwurst, paella from Jamon Jamon, crepes and curry. 
In Golborne Road you'll find North African and Caribbean street food throughout the week, including the Moroccan soup stand which won the 2012 BBC Food and Farming Award for best street food.
In summer you can feast on takeaway fresh fruit salads, ice-cream and frozen yoghurt, or eat and people-watch in comfort in one of many independent cafes and restaurants.