If your taste is more mid-century or retro than serious antique, explore the northern end of Portobello Road and along Golborne Road and you'll discover a wealth of vintage clothing and accessories, bric-a-brac, homeware and furniture.
This is proper flea market territory with the weird, the wonderful and the thrill of discovering a real bargain.

We're starting with fashion, but you can jump to bric-a-brac, furniture and homeware by clicking here.
Fashion
Trendsetters and fashion industry insiders from all over the world come to Portobello market for inspiration.
From sparkling sequins to battered leather, floral frocks and chunky knits; you'll find something to suit you and it needn't cost the earth – prices start from just a few pounds. It's not just for the ladies either – a sharp-dressed man will find plenty for his wardrobe.
On the market
There are lots of regular vintage clothing stalls on Fridays, Saturdays and Sundays, with everything from retro styles to top quality nearly-new designer pieces.
For serious vintage clothing and textiles lovers, a Friday visit to Portobello Green market and the nearby street market is a must. It's the main day for antique and vintage fashion, when specialist dealers converge with Victorian to late 20th century clothing, linens, accessories and haberdashery. Fashion industry insiders flock to 'Vintage Fashion Fridays' in search of inspiration.
At the southern end of Portobello Road on Fridays and Saturdays there are vintage hats, handbags and jewellery in immaculate condition, so it's worth a look there too.
Fridays and Saturdays north of the Westway and up to Golborne Road there are stalls with rails of print dresses, coats, check shirts, tweed jackets and distressed denim, and often tables piled with hats, scarves and accessories, according to the season.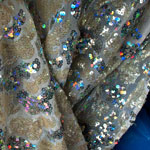 Under the Westway on Fridays and Saturdays with vintage clothing and sometimes linens, Frances' daughter now runs the stall her mother started in the 1970s.
There's loads of vintage fashion on Fridays, Saturdays and Sundays at Portobello Green, the market under the 'tent' canopy by the Westway flyover.
Wayward, outside 286 Portobello Road on Fridays only, has antique and vintage clothing, fabric and haberdashery.
Paul, outside the Cloth Shop on Fridays and Saturdays specialises in dyed vintage cashmere and aran sweaters, and pre-loved leather accessories.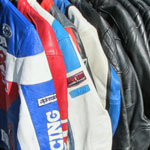 Midway between Oxford Gardens and Golborne Road, on Fridays and Saturdays you'll find Chas, who usually has a good selection of tweed jackets and bike leathers plus more general vintage clothing.
Vintage fashion stores
Alongside the street market, there are some great vintage clothing stores to check out.
282 Portobello Road, open Tuesday to Sunday, is a treasure trove of quality leather footwear and accessories, traditional country tweeds and glamorous eveningwear in pristine condition, catering equally to both sexes.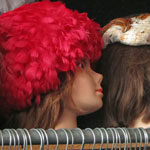 295 Portobello Road, with its bright pink shop-front, only opens Friday and Saturday, and is packed with affordable mens and womens vintage, accessories plus a selection of vintage fashion magazines.
Vintage boutique Found and Vision at 90 Golborne Road has statement pieces from top designer labels.
Across the road at 89 Golborne Road Jane Bourvis has a fairytale shop specialising in exquisite vintage wedding gowns and accessories.
Boo's Closet at 198 Kensington Park Road, opens Thursday, Friday, Saturday with both vintage and new clothing, jewellery and accessories at market stall prices.
There's also One of a Kind at 259 Portobello Road, for high end vintage.
Bric-a brac, Furniture and Homeware
For a home with character, you'll find some great furnishings on the market. On Fridays and Saturdays from the Westway north there's bric-a-brac, art and artefacts, soft furnishings and furniture.  There's also bric-a-brac at Portobello Green on Sundays.
Alongside the market in Golborne Road and at the north end of Portobello Road, there's a cluster of quirky vintage furniture and home decor shops where you'll find the truly unique and original.

On the market
In the same area as the vintage clothing, from the Westway north up Portobello Road and along Golborne Road, on Fridays and Saturdays you'll find vintage bric-a-brac, furniture and objets d'art. What you'll find changes week on week, but here are a few regulars:
Just north of Oxford Gardens, Mark from Sit On It has 50s and 60s retro style furniture, mirrors, glassware and phones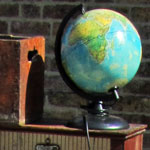 Near the north end of Portobello Road Brendan, and next to him Gareth, have furniture and decorative objects large and small.  You'll definitely find conversation pieces here.
Many Fridays, Scantique has Scandinavian and mid-century modern style furniture, ceramics and art on the corner of Golborne Road.
Don't miss the stalls along Golborne Road itself.  You'll find paintings and prints, ceramics and glass, furniture, lighting and more from all eras and styles. 

Vintage homeware and furniture stores
For interior decorators, the cluster of vintage interiors boutiques in and around Golborne Road are unmissable.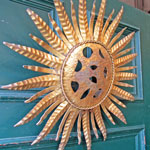 Les Couilles de Chien, at 65 Golborne Road for over 20 years, is one of the most individual stores in London; eclectic, eccentric and exotic with unique statement pieces from antique chandeliers to taxidermy.
Next door at 67, Phoenix on Golborne has a light, bright, shabby chic style with painted furniture and antique accessories.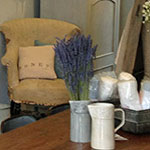 Also new, at 83 Golborne Road is Susan Osborne, with traditional and classic pieces, including furniture given a unique restyle with fabric overlays.
There's plenty of good quality secondhand and vintage furniture, packed in and often spilling into the street outside at 99 Golborne Road.
Across the number 80, Arbon Interiors specialises in fireplaces and architectural features, while at 82 Golborne Road, Bazar's style is rustic and sophisticated French, with natural materials and soft colours.
At 88 Antiques there's rustic furniture with style; mostly 19th century furniture, plus recycled pieces made using salvaged timber.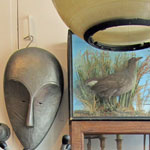 Around the corner at 328 Portobello Road, and named in tribute to Erno Goldfinger, the architect of nearby landmark Trellick Tower, Erno Deco has quality furniture and decorative objects from industrial-chic to ethnic style.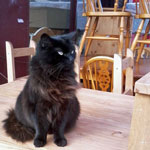 At 289 Portobello Road, just north of the Westway are L H Cookes with new and secondhand furniture (and often a visiting cat).
Last but not least, The Last Place on Earth at 305-307 Portobello Road is open seven days a week with affordable vintage furniture, lighting, accessories and books, and was the location for the recent TV series 'Kirstie's Vintage Home'.