Music & Books
Digital downloads and e-books might be convenient, but if you prefer actual records and paper pages, you can still find them at Portobello market. There are market stalls and independent music and book shops where you'll find vinyl, CDs and books, passionate music fans and avid readers.
Music
On the market, Fridays and Saturdays at the southern end of Portobello Road you'll usually find a couple of stalls with vintage vinyl.
Under the Westway on Saturdays, Foxy CDs has affordable music compilations in all sorts of genres.
There are regular vintage record and CD stalls under the Westway at Portobello Green on Fridays, Saturdays and Sundays too.
Every Friday and Saturday, The Big Red Tent Company has rare and interesting music on CD and vinyl, from small independent labels. You'll find old school funk, jazz, classic rock and blues.
Most Fridays and every Saturday Chris has a huge range of soul, funk and rock on CD and vinyl, just north of the Westway.
Nearby are these music shops, which all open seven days a week:
The legendary Rough Trade shop has been open at 130 Talbot Road for over 35 years, leading the way in independent music.
Honest Jon's at 278 Portobello Road (between Oxford and Cambridge Gardens) are reggae, jazz and soul specialists with their own label.
Have a good rummage at Sounds at 236 Portobello Road, for CDs and records across all genres, new and used.
Books
If you're a book-lover you'll find plenty to browse and rummage in and around the market.
At Portobello Green market next to the Westway, from Thursday to Sunday you'll find Neil's Books.  Neil has new and used books, mainly classic and recent fiction, plus selections on art and cookery.  He's got the books you want to read – satisfaction guaranteed!
Peter Foster's parents sold antique illustrated children's books on the market in the 1960s and 70s, and he's carrying on the tradition on Fridays and Saturdays just north of Oxford Gardens. Peter also sells vintage prints and art, and some of his own original art.
On Saturdays there are antiquarian books in the antiques section of the market near the end of Lonsdale Road.
Normally there's also a good selection of vintage books at Portobello Green and on the forecourt at The Last Place on Earth at 307 Portobello Road.
On Saturdays in Tavistock Square you'll find new books from local independent publishers Holland Park Press.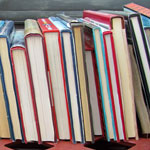 There are often book-stalls in Golborne Road, with boxes or piles of books on all sorts of subjects at bargain prices.
You can also enjoy browsing in these independent bookshops:
The Notting Hill Bookshop is at 13 Blenheim Crescent where the famous Travel Bookshop used to be.  It's a general bookstore with a good range of children's titles and books about London and Notting Hill.
Across the road there's Books for Cooks, heaven for food lovers with guides to every cuisine and culinary speciality, and even a kitchen in the back.
Just around the corner at 21 Kensington Park Road, Lutyens and Rubinstein has two floors of books; fiction and general non-fiction with special sections for children's books, poetry and art.
For a lighter read, Rococo newsagents at 12 Elgin Crescent has probably the widest selections of international magazines and periodicals you'll find anywhere in London.