In this regular feature we turn the spotlight on three of our favourite Portobello and Golborne Market stalls.
Cameras London sells a fascinating range of vintage cameras, many over 100 years old, but almost all of them in perfect working order. If you hanker after the pre-digital photography age, this is the place to find the camera of your dreams. Many of these historic cameras also have a precision-engineered beauty of their own, and some people buy them just for that.
Juliano Ribeiro, originally from Brazil, has been running his stall on Portobello for six years, and he says that he's a happy man because he's managed to transform his hobby into a job. The stall is at Pitch 25 on Fridays and Saturdays and occasional weekdays, just down Portobello Road from Westbourne Grove.
cameraslondon.com
Vintabellas
Fittingly in this time of the Rio Olympics, Maria Clemente is another Brazilian and she runs the Vintabellas stall which sells exquisite china and porcelain, including everything from cups and saucers to ornate statuettes. You'll also find everything from clocks to teapots, and from candelabras to figurines.
Vintabellas is on Portobello Road at Pitch 27 on Fridays and in the Admiral Vernon antiques arcade at Unit 5, 141 Portobello Road, on Saturdays, with a stall on some Saturdays as well. If you're looking for some gorgeous ceramics for yourself or as a gift, a visit to this stall is a must.
vintabellas.com
Lyndon Grady Rare Books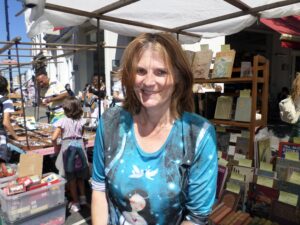 Lyndon Grady has been running her rare book stall for about a year now, helped by her feisty but friendly Jack Russell terrier, Brody. In the past she's had spells as a stand-up comedian and working for other book dealers. Her intriguing stock includes the likes of vintage copies of Alice in Wonderland, Jane Austen novels and charming children's books from a bygone era.
Lyndon travels the length and breadth of the country in search of literary gems for the stall, and the excellent results of her travels are plain to see when you browse the titles on offer. You'll find Lyndon at Pitch 33 on Portobello on Fridays and at various pitches on Saturdays.