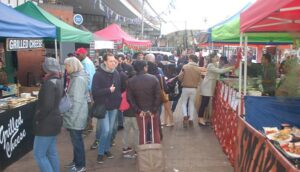 What do Vietnam, Venezuela and Namibia all have in common? Well, they're all countries whose cuisines are on offer at the Acklam Village section of Portobello Road Market.
Open on Saturdays and Sundays, Acklam Village is tucked away under the Westway flyover a few steps off Portobello Road. The Westway is a concrete giant that carries traffic across Portobello Road to destinations westwards. This modernist structure has featured in songs by The Clash, Blur and The Jam.
If you're starting from the southern, Notting Hill Gate end of Portobello Road, Acklam Village is about a 20-minute walk north, just by the junction with Cambridge Gardens. From Ladbroke Grove Tube Station, it's just a few minutes' walk.
The Village has an extraordinary variety of street food on offer from countries as diverse as Poland, China, Spain and Palestine, plus many others. As well as the superb food offerings, there's also the Acklam Village Bar featuring live bands and a great selection of beers, wines, spirits and soft drinks.
Here is a selection of some of the tempting cuisines you'll find at Acklam Village.
"The Best Duck Confit Sandwich in London"
Nha Trang Kitchen – Vietnamese street food. Website
Stop Bruv Jerk Centre – traditional Jamaican jerk chicken and other spicy favourites from the Caribbean.
Simply Paella – Spain's most celebrated dish. Website
Smoked – speciality smoked meats. Instagram
Mimi's Cupcakes. Website
Love Italy – an entire menu of authentic Italian food.
Silmar's Taste – a full range of Portuguese delicacies. These are lancheiras, tasty pastries with ham and chorizo or ham and cheese. Website
Polish Barbecue – delicious smoked sausages and roast pork. Website
Win & Lily Oriental Fine Foods – Facebook