The white canopy that floats above the market next to the Westway flyover on the corner of Portobello Road and Cambridge Gardens is recognised as an unrivalled location for shoppers hunting out unique vintage fashion items.
As well as individual shoppers, costume designers from film and TV flock to the stalls under the canopy to find that elusive item they musts have for their period dramas. The vintage fashion market is open on Fridays, Saturdays and Sundays although not all traders are there every day.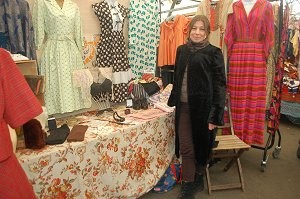 Sarah Horrillo
One of the traders under the canopy is Sarah Horrillo with her stall L-O-V-E~London Ophelia Vintage Emporium selling vintage 20th century clothing every Friday. "This is one of the last London markets to have escaped gentrification, says Sarah, "and I love the atmosphere we have here.
"You can spend anything from a pound to a grand and you're as likely to meet trendy teenagers hunting for a bargain as the fashion editor of Vogue. There's a great sense of community here among the traders and I feel we're doing our bit to keep that area's history alive."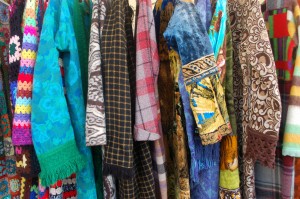 Dancing Dollars London
Another stall for fashion aficionados is Dancing Dollars London, under the canopy on Fridays and Saturdays, and selling vintage, nomadic clothing and textiles. As you can see from the photo, Dancing Dollars goes in for strong colours and one-of-a-kind styling.
Chantal Quiquine
Chantal Quiquine specialises in French vintage fashion and designers, so you really should visit her stall if you're looking for some effortlessly chic Parisian elegance. Chantal has been collecting since the early 90s when she worked as a model and stylist in Paris.
Outlaw
Finally, if you're hankering after that 1970s style that's so cutting edge at the moment, pick up an absolutely authentic leather jacket from Outlaw. Pair it with a colourful scarf and you'll be transported back to the heady 1970s.